IVIIN 16-in-1 Docking Station Dual Monitor 4K or Single 8K@60Hz, Thunderbolt 4 Docking Station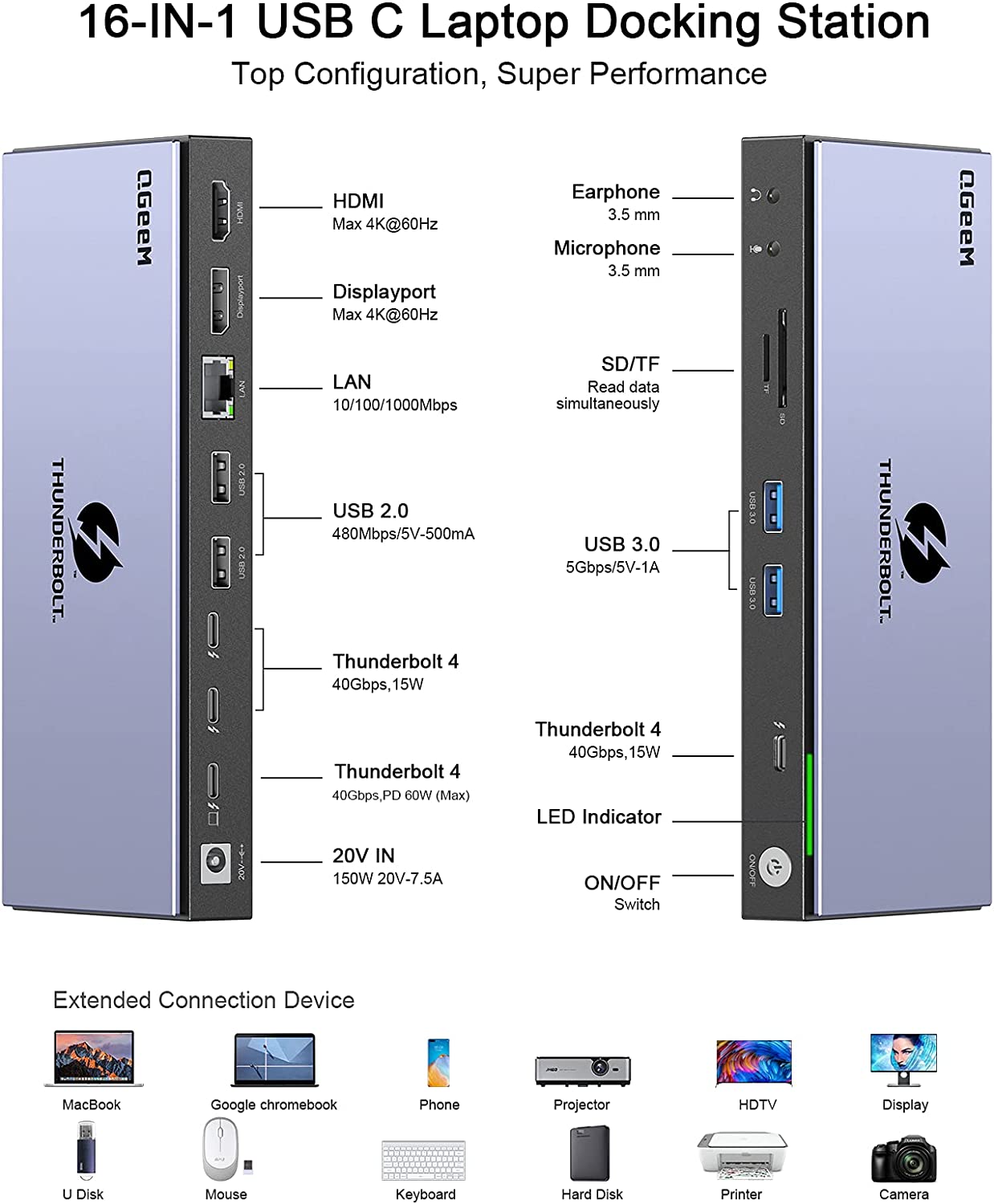 More connections, more convenience
1*Thunderbolt 4 upstream port,
3*Thunderbolt 4 downstream port,
4*USB-A ports
HDMI port, Displayport port,
Ethernet port, SD/TF card slot, 3.5 mm headphone/microphone port
More Dipslays, 8k Resolution

Single display-8k@30Hz(7680x4320)-Thunderbolt 4

Quad display-4k@60Hz(4090x2160):
Thunderbolt 4+Thunderbolt 4+HDMI+Displayport
The single Thunderbolt interface allows for 8K Ultra HD display, meaning 4x higher definition than standard Ultra HD 4K.
Delivering superior stunning and lifelike images/video, allowing you to capture flawless detail.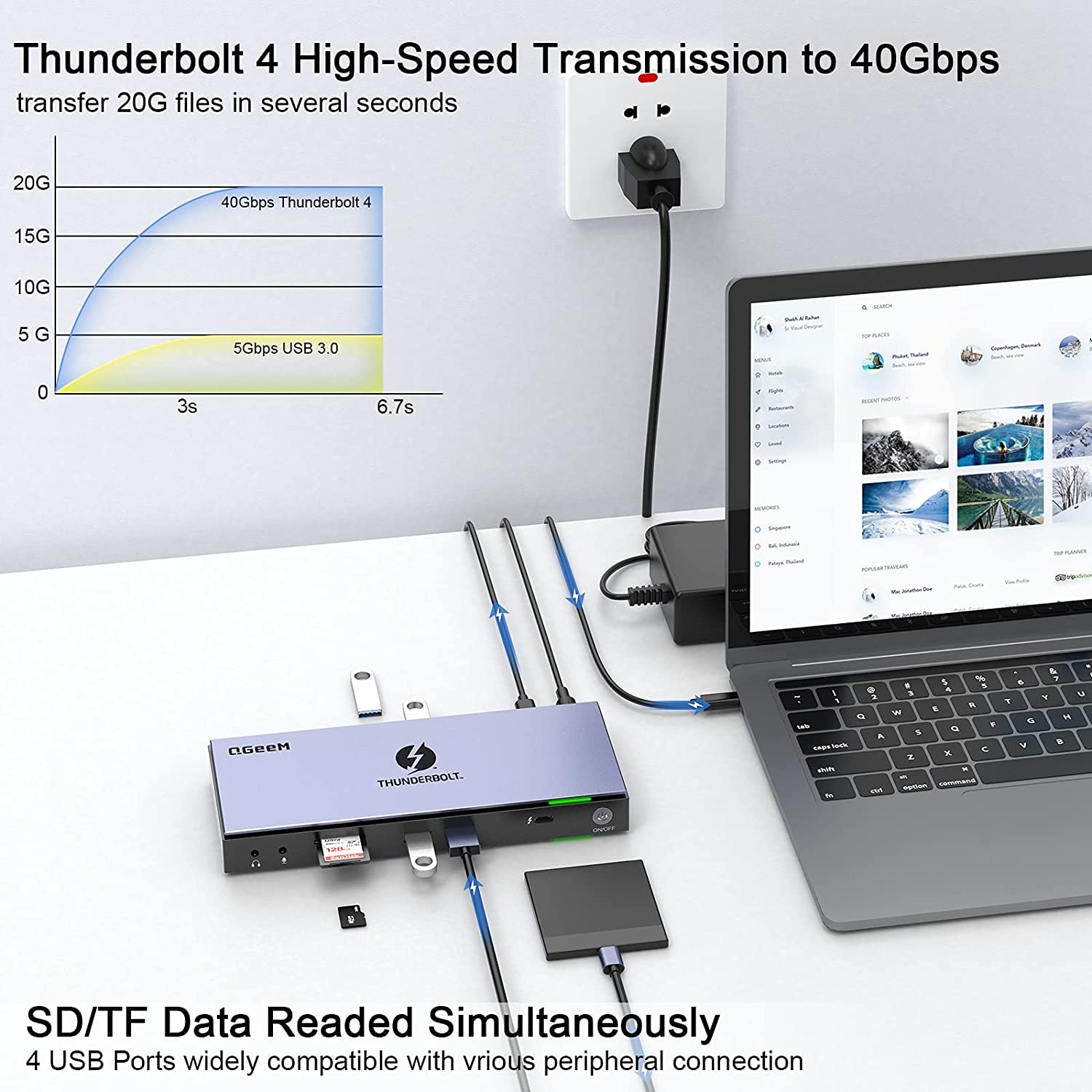 Time-saving Charging&Transfer
Thunderbolt 4 -PD 60W , 40Gb/s
(1.5 hour full charging, 20G file transfer in 7s)
Thunderbolt 4 -15W , 40Gb/s
USB 3.0: 5Gb/s
USB 2.0: 480Mb/s
1000/100/10Mbps wired network data transfer, without worrying about WIFI connection.
Apple M1 compatible
Windows 10 or above
Mac 10.10 above
Computer with Thunderbolt 3 port
USB-C (USB 3.1) with Display Port Alt Mode (Displaylink Alt Mode)
For Macbook M1 user, displays are only mirrored or extended to 3 monitors only.
Spec

What's in The Box:
QGeeM 16-in-1 Thunderbolt 4 Docking Station
150W DC power adapter
4ft DC power cord
2.3ft Thunderbolt 4 cable
User guide

Dimensions:
Height:198 mm/7.79 in, Width: 83 mm/3.26 in
Depth: 29 mm/1.14 in, Weight: 260G/9.17 oz
Colour:grey, Operating Temperature: 0 ºC~40ºC
Power Supply: 20V7.5A
Power Plug:UK/EU/US/China/Australia(optional)




Device
This docking station is suitable for any laptop with a thunderbolt 4/3 port or Power delivery port (USB 3.1 Type-C (Gen2)--(DP Alt mode required:
Display Port Alt Mode (DP Alt Mode) allows a USB-C equipped computer to connect directly to a display or monitor).
Use
Yes, you need download Displaylink Driver, and please make sure your laptop system is updated. Check our manual or contact us for help.
It is normal for a certain degree of flickering after the docking station is connected to an external monitor. It should disappear within a few seconds.
If you encounter any screen problems after waking up your laptop, please restart the docking station;
if your laptop or docking station has not been shut down for a long time and you experience screen problems, please restart the docking station.
When this docking station charging or transferring data at high speed, the temperature may increase. This heat is dissipated through the aluminum exterior, so it may feel a little hot when you touch it which is normal.