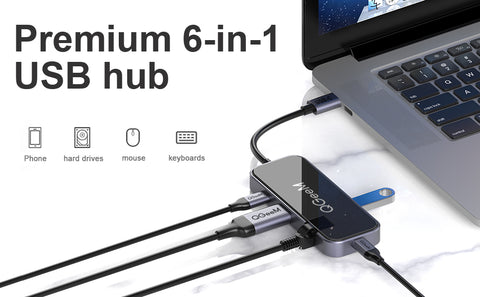 Multi-Interface Extension: The multi-port USB C adapter features a 4K HDMI port, 2 USB 3.0 ports, Gigabit Ethernet port, Power Delivery Charging port and USB C port. It turns one USB-C port into an all-in-one connectivity station for USB, HDMI, Ethernet, and PD charge.
Wide Compatibility

This all-in-one USB-C hub is widely compatible with Windows 10, 8, 7, Vista, XP, Mac OS X 10.6 or higher, Linux 2.6.14 or higher, which are based on USB-C outputs (especially MacBook Pro 2016 or later).

 

Enjoy 4K media

Transmit and enjoy 4K media & streaming via HDMI port, but when the HDMI port and VGA port are used simultaneously, the HDMI port can only output 1080P resolution.

Power Delivery

Up to 100W power delivery, the keyboard consumes some power, so the charging power it can provide is slightly less than 100W.
 
 

High-Speed Data

Transfer movies, music, and more in just seconds with 5 Gbps transfer speeds, 10 times faster than USB 2.0 with 480Mbps.

Easy to Use

There is no external drivers or power required(Due to the power supply limit of the laptop, some high-power devices may not boot up)
Product introduction:
Fast Data Transfer & PD Charge: USB 3.0 Ports with 5Gbps data transfer rate; 1000Mbps RJ45 Ethernet port offers the fast wired internet connection, backward compatible with 100Mbps/10Mbps RJ45 LAN. Extra USB-C PD charging port that delivers up to 100W(20V/5A) power while using the other ports.

HDMI 4K High Resolution: Mirror or extend your screen, the USB C to HDMI adapter can steam Ultra HD 4K@30hz / 1080p /3D videos to your HDTV/monitor/projector from laptop/Samsung phone, you can share stunning movies/games with your families on an external ultra HD big screen.
Mac-Style Design&Anti-slip stand: The USB C to USB hub crafted from sleek aluminum and tempered glass panel design perfectly complement your type-c laptop. The non-skid mat at the bottom avoids harming the table or causing any noise.
Compatibility: Work for 12-inch new MacBook, MacBook Air 2018 13", MacBook Air 2019, MacBook Pro 13'' 2016, MacBook Pro 15'' 2016, MacBook Pro 13'' 2017, MacBook Pro 13'' 2017, MacBook Pro 15'' 2017, MacBook Pro 13'' 2018, MacBook Pro 15'' 2018, MacBook Pro 13'' 2019, MacBook Pro 15'' 2019, MacBook Pro 16'' 2019, Google Chromebook, Dell XPS 13 15, Lenovo Yoga 900, HP Spectre notebook, ASUS ZenBook3, Huawei Matebook, Samsung Chromebook Pro, etcomebook Pro, etc. (Compatibility information will be updated online.
Unsupported: Nintendo Switch, Apple USB SuperDrive and surface pro.
Note: This docking station is only compatible with the USB-C port and is not compatible with the thunderbolt 3.