BROADLY COMPATIBILITY: Interfaces with multiple third-party applications compatible; with direct show on windows, video 4 Linux on Linux, quick time on Mac OS X, with both audio and wide screen display support
RECORD & SHARING: Record and share your live streaming video. the HDMI video capture device is ideal for live streaming, conference rooms, video recording, webcast, game live and more..the device includes: 1 USB 3.0 port; 2 HDMI ports; 3 standard 3.5 mm Audio jack (MIC/Earphone) realize online live streaming video recording. And it is lightweight and appropriate size to carry in your laptop bag when traveling
NO LATENCY STREAMING: Record HD audio & video from external devices via HDMI port and can be synchronized to a larger screen. There is no latency when you are making a video live streaming. The HDMI capture device requires no external power
PACKAGE INCLUDED: HD video capture card, cable, user manual. good shopping experience is very important and if you are not satisfied for any reason whatsoever, do not hesitate to contact us before returning it directly to us, we QGeeM offer 100% customer satisfaction and a one year warranty
QGeeM is a electronic trading company focusing on the 3C electronic market, integrating independent research and development, production and sales. We have a first-class product research and development team and efficient and sophisticated equipment, dedicated to providing the highest quality products and services to customers around the world.
QGEEM HD VIDEO CAPTURE CARD -SYSTEM REQUIREMENTS AND TECHNICAL SPECIFICATIONS
USB 3.0 Data transfer
USB 3.0 port:High-Speed Data Transfer movies, music, and more in just seconds with 5 Gbps transfer speeds, 10 times faster than USB 2.0 with 480Mbps.
Attention:Only applicable to devices with USB 3.0 port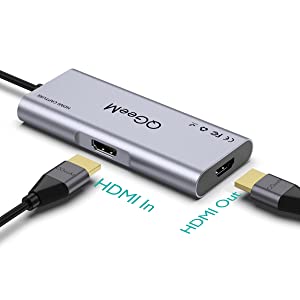 Standard HDMI Ports
1 * HDMI input port
1 * HDMI output port
take data output device connect with HDMI input port, and then take HDMI output connect with the display device or PC
(There is no latency when you are making a video live streaming)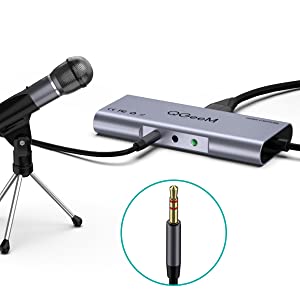 Audio Capture
3 * Audio 3.5 mm jack: realize online communication and live streaming video recording
1.MIC-Audio input
2.Earphone & MIC-Audio input and output
3.Earphone-Audio input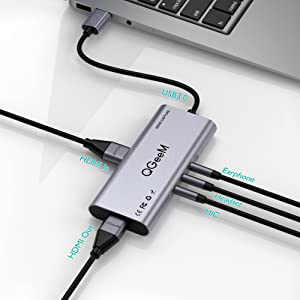 HD Video Capture
Record and share your live streaming video.
It adopt for game live, conference online record, Broadcast, video/ Speech/ concert/ photography video and audio recording
Extensive Compatibility
Works with most third-party software and Operating Systems including:Windows, Mac OSX, Linux.
Support to capture and transfer 1080P 60fps HD Video signal and optional audio capture.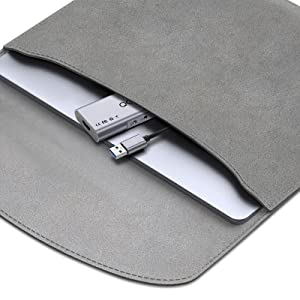 Slim Design
Measuring just 1.8 × 4.1 × 0.5 inches, the compact and lightweight design fits easily into your bag for effortless portability.(the cable line : 5.9 inches)
The sleek, design requires no external power and eliminates visual clutter.
Game Live
It can be used in smartphone and transfer video/audio signal to other monitors(there is no latency when you are making a video live streaming)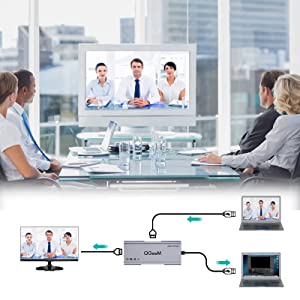 Conference Video Recording
HDMI Capture Card Capture HD Video/Audio, and can be synchronized to a larger screen without latency
It can be used in office, help to simplify your work and make your a day more efficient
Audio/Video Recording
Our QGeeM HDMI Capture Card realize online live streaming recording.
1. stream your voice and record your voice by the ports easily
2. use it to make an online commentary when video/game live
Connect the device with headphone with Microphone /Audio Input Port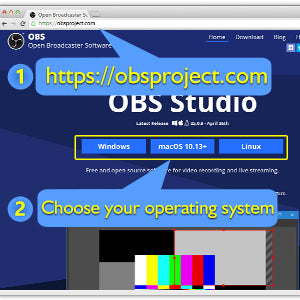 Simple and fast install "OBS"
Need install screen recording software.
It is simple program that can help you to use the product well