Achieving higher resolutions is easy if you're using right type of monitor port. Modern monitors are armed with unique ports,there are serval most common type of Monitor Ports majorly used in monitors: VGA, DVI, HDMI, DisplayPort, Type-C, and Thunderbolt. Depending on your need, each port performs a special task. For instance, if you want stunning audio and beautiful video, HDMI is your thing. However, if you're a gaming enthusiast DisplayPort may serve you better. And, if you want to catch the trend, a USB Type-C port is a must-have. So what extraordinary do these different types of monitor ports offer for a pleasurable entertainment experience?
VGA: The Oldest Type Of Monitor Port
The king of advancement, IBM technologies, launched VGA in 1987. Working on analog signal transmission, VGA was a big step toward upgrading display resolutions. It was the best fit for CRT monitors. But, sharp, clear, and flicker-free images resulting from Liquid-Crystal Display (LCD) subtly phased out CRT monitors. The bottom line is that Mind Blowing enhancement in the visual industry, catalysed the development of interfaces that could support high pixelated videos and intense sound formats, making VGA drop-dead. Although CRT monitors have faced death, however, VGA port is still available in old laptops, TVs, video cards, and other electronic devices.
DVI Monitor Port: Beginning of Digital Future
Introduced in 1999, the DVI port became a hot favorite for two reasons. Firstly, it could transmit digital as well as analog signals. Secondly, it had the ability to support higher resolutions (Full HD). Moreover, due to the DVI port's versatility, it became standard for both low and high-cost video cards. While low-cost video cards carry single link DVI (which can support 1920 x 1080 pixels), the expensive video cards are loaded with Dual Link DVI. They can be hooked to monitors with up to 2560x1600 pixel resolution.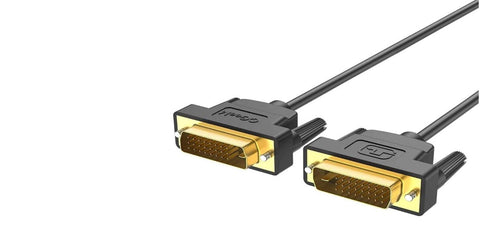 HDMI Port: Powerful Multimedia For Monitors and TVs
HDMI stands for High Definition Multimedia Interface. It is a standard now. Unlike VGA and DVI, which lost importance pertaining to their failure to evolve, the HDMI port is super flexible. Introduced in 2002 HDMI has, to date, launched 7 different versions. Besides carrying audio and video signals, HDMI is also empowered to transmit the internet thereby brutally competing with WiFi technology. Due to its multi-functionality, you'll find HDMI in Digital Cameras and Camcorders, Monitor and TVs, Receivers of Home Theatre, Blu-ray players, gaming consoles, DVRs, and UHD players.
DisplayPort (DP)
Developed by a group of PCs and chipset manufacturers, DisplayPort has turned out to be a rival of HDMI. It is standardized by the Video Electronic Standard Association (VESA). Besides HDMI, DP is one of the famous type of monitor ports. Compared with HDMI this interface brings more fruits for manufacturers as they don't have to empty their bank accounts paying developers the license expenditure. Pertaining to higher resolution and data transfer speed, DisplayPort is the preferred interface for next-gen gaming on the latest TVs and Monitors. And with multi-monitors, gaming becomes addictive, giving a whole new vibe.
Modern Monitor Ports (Breakthrough Technologies)
Thunderbolt: A cutting-edge port developed by joint efforts of Apple and Intel to connect external peripherals and monitors to a computer. Interestingly, thunderbolt does support mini DisplayPort for video output because thunderbolt 1 and 2 use the same connector as mini DP. Similarly, Thunderbolt 3 uses the same USB-C connector.
USB-C: Commonly recognized as Type-C, USB-C replaced a range of electrical connectors such as HDMI, DisplayPort, USB-B, and USB-A cables. Also, it eliminates the need for a 3.5mm audio cable, by connecting both hosts and devices.
Types of Monitor Ports: What QGeeM Thinks?
A few years back no one would've imagined that the VGA port would drop dead. More shocking, Its competitor DVI (the first step toward digital signal transmission ), didn't even stand for long. It easily gave way to HDMI and DisplayPort penetrating for mass usage. Now, both these latest visual interfaces seem to fight a long way. In this connection, HDMI and DP are upgrading every then and now.

Now that you're familiar with all types of monitor ports, you know what suits you. But, it is important to mention here that a good monitor without a finely-built cable is useless. If you've got a minute, do check out QGeeM's HDMI and DisplayPort cable.